Diopsys Nova VEP
The Visual Evoked Potential or VEP directly measures the activity of neurons in the visual system. It is a very useful technology that is now available to help us determine how your eye talks to your brain in a way that no other instrument, computer or test can. Here are some common questions and answers about the VEP.
Q: What is the VEP procedure used for?
A: The VEP is used primarily to determine how well each eye sends its signals through the optic nerve to the brain. VEP has been demonstrated to aid in the diagonis and treatment of many disorders including amblyopia, brain injury, stroke, mulitple sclerosis, and other vision-related issues.
Q: How is the VEP recorded?
A: The VEP is the visual version of the EEG (electroencephalogram), and is recorded with three electrodes that are briefly pasted to the front, middle and back of the head. It is non-invasive and very safe.
Q: How much time does the VEP take?
A: About 30 minutes total, though obtaining the recordings once we're ready is a matter of only 10 or 60 second of looking at a checkerboard pattern on a screen for each recording.
Q: What if my child can't pay attention?
A: There are cartoon pictures that we interpose to help. Sometimes an assistant will tap the screen. In fact, there is a version of the VEP that we use to help evaluate infants. Features of the VEP can even give us objective information about visual attention. It might be helpful to bring a favorite item such as a blanket, pacifer, or toy to make them feel more comfortable duting the test.
Q: Is there any special preparation needed?
A: It helps to get a good night's sleep before, and to shampoo the hair before coming in. We clean a few areas of the scalp carefully before applying the electrodes with some paste, so the scalp is a little sticky when we're done.
Q: Does insurance pay for this test?
A: Many carriers do reimburse for this procedure.

Heidelberg Field Analyzer
The Heidelberg Field Analyzer is the recognized standard of care for early diagnosis, treatment, and, management of diseases resulting in visual field loss.It is used to evaluate the central and peripheral vision of a patient.
Glaucoma diagnosis cannot be made without the use of this machine. It is also used in monitoring the progression of glaucoma and other conditions of the optic nerves, the retina, the visual pathway and the brain.
Life threatening conditions of the visual pathway such as brain tumors, tumors behind the eye can be detected with this machine. Dr. Bonds recommends that all his patients undergo a 3 minutes visual field screening test using this equipment.

Heibelberg OCT™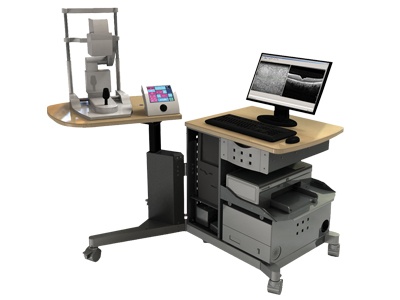 Images acquired by the Zeiss Cirrus HD-OCT™ precisely measure retinal conditions including glaucoma, age related macular degeneration, retinopathy, and macular holes. Featuring spectral domain technology, it delivers high-definition images of ocular structures and detailed analysis tools. Patients appreciateits precise and fast scans.


VISUCAMPRO NM™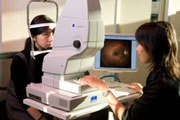 The Non-Mydriatic Fundus Camera System (Visucam) is a specialised low power microscope with an attached digital camera designed to photograph the interior surface of the eye. The photographs are used for comparison and documentation of changes caused by conditions such as macula degeneration and diabetes.

B-Scan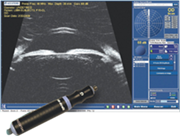 B-Scan ultrasonography, is a diagnostic test used ineyecare to produce a two-dimensional, cross-sectional view of the eye and the orbit. B-Scan ultrasonography is an important adjuvant for the clinical assessment of a variety of ocular and orbital diseases.
With understanding of the indications for ultrasound and proper examination technique, one can gather a vast amount of information not possible with clinical examination alone. This equipment is designed to provide a general understanding of echographic characteristics of various ocular pathologies.

Humphrey Atlas Corneal Topographer
This computerized photographic instrument surveys the cornea and provides a detailed topographical "map" of its shape. If you are considering new contact lenses or thinking about refractive surgery (vision correction procedure involving the cornea), this information is vitally important.
The cornea is the highly curved clear window on the front of the eye. The cornea helps focus light on the retina and therefore plays a significant role in how well you see. As the curvature of this clear structure changes, both the way your contact lens fits and your prescription, can change. Understanding these exact curvatures is somtimes necessary to properly fit and prescribe contact lenses or spectacles. This information can also help us determine if refractive surgery is appropriate for you.
The corneal topography system is a major advancement in corneal analysis. In addition to contact lenses and refractive surgery applications, the Humphrey Corneal Topography System can detect slight conditions often invisible to even the most thorough conventional testing. The system can also help your doctor monitor subtle changes on your cornea over time.
The computerized corneal topography system measures a wide area of the cornea utilizing data from almost 8,000 individual points.
Annidis RHA
The Annidis RHA is a multi-spectral retinal scanner. This quick, non-invasive imaging system uses 10 wavelengths of laser to scan various retinal layers in 3D. The Annidis RHA allows for much earlier diagnosis of conditions such as macular degeneration, glaucoma, and diabetes.